Memorial Page
Memorial Page
For those who wish to donate in memory of someone special this page is for you. We have listed everyone we know of who has donated in memory of a beloved family member. If you wish to have your loved one remembered in our page, please make a note of that on your donation so we can be sure to make a listing here. If you wish to have a picture also posted, you can send an email with their picture and we will be happy to post it here when we recieve the donation in their memory.
From Phyllis and Cotton Bartley in memory of their son Nathan Bartley.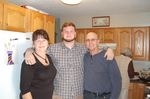 In memory of Jean Riddle's husband. A 2 tour veteran of the Vietnam War.
Ann Girdley donated $100.00 in memory of her husband Robert A Gridley, U S Army SFC retired after 20 yrs.
The following persons have donated in memory of our beloved co-worker, friend and brother Larry Webb. Larry was a very important part of The Hugs Project of W KY and we will miss him greatly:
Laurance & Linda Drown, Jerry & Alice Baster, Margret Henley, Shirley Hancock, Bobby (Peto) Webb, Harlene Grace, Patty Drury and the Greenville Class of 1966 / John Browning.
In memory of Colleen Burt, a dedicated volunteer to The Hugs Project of W KY and friend to so many. $20.00 from Ms. Lucas, $50.00 from Carol and Jesse Trueblood, $50.00 from Donna Webb, $20.00 cash at Filbeck-Cann & King, Margret Henley $25.00,
The following picture is of Larry doing what he loved to do, ANYTHING to show love and support to our heroes serving in harm's way and poking fun at us while doing it LOL. He's in the grey sweater.
Norman and Patty Wallace donated $500.00 in memory of her uncle who was a WWll veteran and also in honor of their son who is a Chaplain in the Tx National Guard having served 2 tours in Iraq.
Margaret Bunnell donated $100.00 in memory of her late husband Captain Robert Terrell Bunnell.
Carl and Gail Dorman in memory of Vera Newtown. Vera was our oldest member (in age and membership to the MCL league). She was a supporter of The Hugs Project of W KY while she was alive and asked that donations to be made with her passing. Also received a $100.00 donation from Glen Newtown, Vera's son, in memory of his mother. What a wonderful way to remember someone who served her country so honorably.